We're your financial partner for life and we want to help you enjoy it!
Our Enjoy Life Share Certificate of Deposit (CD) offer is just for members.
The rates are also available for IRA CDs.
Enjoy Life CD Rate Special:
$500 Minimum; $1,000 Maximum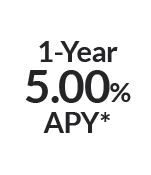 ---
Other CD Terms With Limited Time Rates:
$500 Minimum; No Maximum

---
Take your savings to new heights with our other CD terms featuring limited time rates and the CD laddering strategy. Here's how:
Open three or more CDs with different maturity dates at the same time, such as a 1, 2, and 3-year CD.
At the end of each year re-invest your matured CD into a new 3-year CD, allowing you to benefit from higher-rate 3-year CDs rather than 1-year CDs.
Continue to re-invest maturing CDs into a new 3-year CD. This laddering strategy will enable you to have liquidity and flexibility when you need it since one or more CDs will always be approaching maturity.
Open a Share or IRA CD with Viriva and maximize your savings. Get started with as little as $500. Contact us today at 215-333-1201 or complete the request form below.
For additional resources check out Balance, our financial education partner.
*Annual Percentage Yields (APY) accurate as of 5/01/2019 and may change without notice. To obtain stated APYs, a CD must be opened between 5/1/2019–5/31/2019 with a deposit of $500 or more in new money not on deposit as of 4/30/2019 and must be maintained through CD term. Limit of one 'Enjoy Life CD' per primary account holder per unique Social Security Number and all deposit and loan accounts on which the primary is a signer must be in good standing. Penalty for early withdrawal may apply. Fees may reduce earnings. Credit Union Membership is required and eligibility restrictions apply. We reserve the right to end or modify this offer at any time. Contact us at 215-333-1201 for rate and account details.