Get More From a Viriva Home Equity Loan
Viriva is here to help you fund whatever your life needs! If you're a homeowner, you may be able to unlock the equity in your home as a cost-effective loan option. Use the funds for home remodeling, debt consolidation, educational expenses, and more.
Fixed-Rate Home Equity Loan Program Features
Low fixed-rate that will not change for the life of the loan
Monthly payments are the same each month, making budgeting easier
Available terms include 5, 7, 10, 12, and 15 years (depending on the Loan-To-Value of the home)
Loans can be disbursed within a month
No high closing costs
Lending area includes Pennsylvania & New Jersey
Minimum loan amount is $5,000 with a maximum of $100,000 (depending on the available equity in the home)
The interest you pay on the loan may be tax-deductible (please consult your tax advisor)
Primary residence, second/vacation home, or rental property can be used as collateral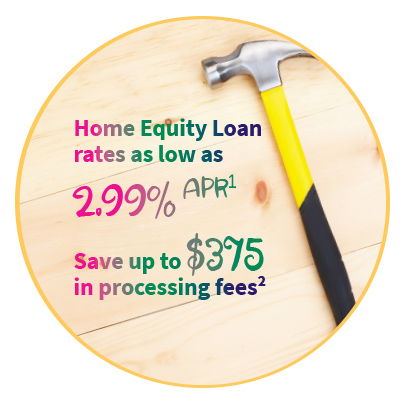 Apply today, and unlock the equity in your home.
1. 2.99% Annual Percentage Rate (APR) applies only to Fixed-Rate Home Equity Loans with 60-month term or less and is our best rate for well-qualified borrowers with a qualifying loan of up to 80% Loan-To-Value. Payment example: Borrow $20,000 with 60-month term at 2.99% APR and pay $359.27 per month. Your APR and payment may be higher based on your credit, loan term, available debt protection options, and our underwriting standards. Homeowner insurance required. Title and flood insurance may be required. Current Viriva loans must refinance an additional $10,000 in new money to be eligible. Membership and other restrictions may apply. Offer may change without notice. Applications must be received between 03/01/21 and 6/30/21 and are subject to credit approval. Call us at 215-333-1201 for more information and to discuss other rates and terms. 2. Up to $375 Loan Processing Fee waived for applications received between 03/01/21 and 06/30/21 with loans of $20,000 or more in new money disbursed by 07/31/21.